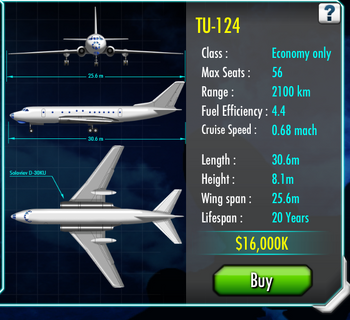 The Tupolev Tu-124 is a Soviet-made twinjet commercial jet based on a shortened version of the popular Tu-104. It is the world's first turbofan-powered aircraft, but it never achieved the fame that the Tu-104 had. It was originally intended to compete with the Ilyushin IL-18. It was introduced in 1962.
Variants
In game, there is only one version of the Tu-124. It is introduced in the 1960's.
Tu-124
Class: Economy only
Maximum Capacity: 65
Range: 2100 km
Engines: Soloviev D-30KU
Fuel Efficiency: 4.4
Cruise Speed: 0.68 mach
Length: 30.6m
Height: 8.1m
Wing Span: 25.6m
Lifespan: 20 years
Price: $16,000K
Test flight: 1960.03
Introduce: 1961.05
Ad blocker interference detected!
Wikia is a free-to-use site that makes money from advertising. We have a modified experience for viewers using ad blockers

Wikia is not accessible if you've made further modifications. Remove the custom ad blocker rule(s) and the page will load as expected.