The Lockheed L-1049G was an American-made narrow-bodied, quad-engined turboprop airliner. It has a long range, but low capacity. The real-life aircraft, known as the Super Constellation, was produced by Lockheed as a response to the successful Douglas DC-6. In the game, there is only one variant of the aircraft available. The aircraft is only available in Air Tycoon Online 2 and Air Tycoon 4.
Variants
L-1049G
Class: Economy Only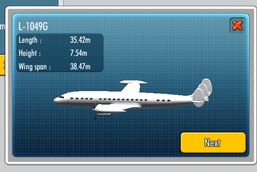 Maximum Seat: 95
Speed: 0.45 Mach
Range: 8700km
Fuel Efficiency: 6.1
Engine*: Wright R-3350 972-TC-18DA-1 radial
Length: 35.42m
Height: 7.54m
Wing Span: 38.47m
Price: $32,000k
Lifespan: 20 years
Introduction: 1960.01
End of Production: 1967.01
*Information is not provided in the game.
Ad blocker interference detected!
Wikia is a free-to-use site that makes money from advertising. We have a modified experience for viewers using ad blockers

Wikia is not accessible if you've made further modifications. Remove the custom ad blocker rule(s) and the page will load as expected.