The Concorde is a European-made turbojet-powered supersonic airliner. It was introduced in 1976 and taken out of service in 2003. It is currently only one of two passenger supersonic aircraft (The other one being the Tupolev Tu-144) ever made. In game, it depicts the Concorde under the Airbus manufactuer, but in real life, it was produced by Aerospatiale-BAC. The Concorde is not very fuel efficient, so the really only good thing about buying the Concorde is that you can have many flights because of its speed. As you expect, in game there is only one variant.
Variants
In game, there is only one variant of the Concorde.
Concorde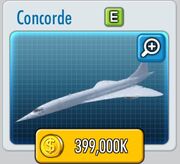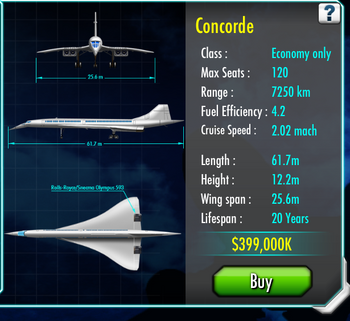 Maximum Capacity: 120
Range: 7250 km
Engines: Rolls-Royce/Olympus 593
Fuel Efficiency: 4.2
Cruise Speed: 2.02 mach
Length: 61.7m
Height: 12.2m
Wing Span: 25.6m
Lifespan: 20 years
Price: $399,000K
Time: 1976.01 - 2003.11
Wikipedia : LINK
Ad blocker interference detected!
Wikia is a free-to-use site that makes money from advertising. We have a modified experience for viewers using ad blockers

Wikia is not accessible if you've made further modifications. Remove the custom ad blocker rule(s) and the page will load as expected.