Casablanca is a small to medium sized city. The location is at the south of Spain and United Kingdom. This city has a low business and tourism level in 1960-1970 and the business and tourism level in 2000 is around 200-290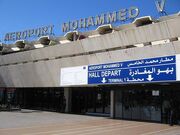 Airport
The default airport name is "Mohammed V Int'l Airport"
Strategy
Most player open the route from New York to Casablanca with 767-300,777-200,or A330-300. For a cargo route many player open the route from London to Casablanca with 767-300F,A330-200F,or 757-300F.
Please note the information above is based on true information from in-game players.
Ad blocker interference detected!
Wikia is a free-to-use site that makes money from advertising. We have a modified experience for viewers using ad blockers

Wikia is not accessible if you've made further modifications. Remove the custom ad blocker rule(s) and the page will load as expected.