Airline logos are avatars for your airline. You can decide which logo you want and it can be changed throughout the game. Custom logos can be used from your photos for 10 credits (Not Available In ATO2). Many of the logos provided by Air Tycoon Online are not real world airline logos. They are free, and you can change them as you please. Make sure your chosen logo matches your air plane painting, is not too small, and is related to your airline name.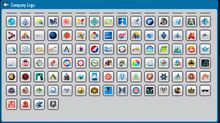 An example would be using the American Airlines logo for an ATO (Air Tycoon Online) airline, AmericanJet.
Ad blocker interference detected!
Wikia is a free-to-use site that makes money from advertising. We have a modified experience for viewers using ad blockers

Wikia is not accessible if you've made further modifications. Remove the custom ad blocker rule(s) and the page will load as expected.